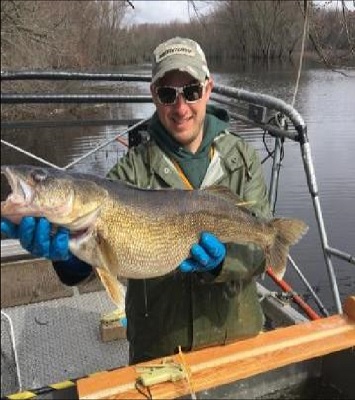 Attached is the 2017 Winnebago Walleye Report. The report covers a variety of topics including 2017 spring water level and walleye hatch results, 2017 spring adult spawning stock results, walleye exploitation and reward tag study results, a walleye population outlook, and a regulation change discussion update.
Walleye anglers have enjoyed some productive walleye fishing on the Winnebago System over the last few months, particularly in May and June. Many anglers have also been wondering how the 2018 walleye hatch will stack up after the historical spring weather events that swept through the area (you may remember the 30 inch snow event in April). DNR staff and a host of local volunteers completed the first round of the Annual Lake Winnebago Bottom Trawl Assessment last week.
Preliminary results indicated a measurable 2018 walleye hatch (5.7 young of year/trawl), but we will have to wait until the September and October trawling rounds are completed for official results. The survey is also vital for evaluating the year class strength of other sport and forage fish species in Lake Winnebago. Stay tuned for the annual trawling report once the survey concludes in fall. I hope you enjoy the walleye report and good luck with your summer fishing adventures. We are committed to service excellence.
Visit our survey at http://dnr.wi.gov/customersurvey to evaluate how I did. Adam D. Nickel Phone: (920) 424-3059 adam.nickel@wisconsin.gov