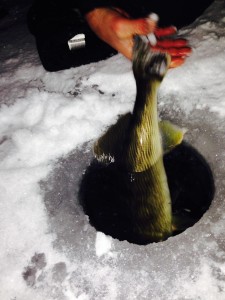 The Pewaukee Chapter of Walleyes for Tomorrow was developed to address that "lack of the young of the year" walleyes in the lake. Fortunately we do have some walleyes but they are all between 20" and 28" but they are far and few between. If we keep harvesting them we will have no "spawners" left in the lake.
With the walleye wagon operation we need these spawners to stay in the lake. So the Chapter started a catch and release program where if a member catches a legal walleye and releases it you fill out a fish ticket that will be entered into a drawing at the end of the ice fishing season. After spending countless hours out there in the brutal winter conditions, it's tough to release a nice 22" walleye when you have a wood burner going and butter and salt in the shanty.
But these guys know how critical these fish are to the future of our fishery, so take a photo of you with the fish and the fish being release (see enclosed photos) and text it to the chapter chairman.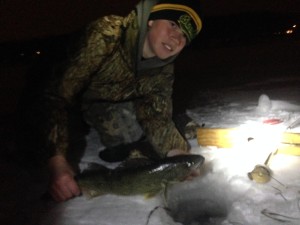 1st place prize will be an ice armor suit or a power auger and 2nd- 12th place will be a fish fry at a local establishment. 12 fish fry's ($15.00 values) have already been donated by Mary's 5'O clock club, Cruly's Waterfront and Gina's Sports dock, and 12 fish have been successfully released. So every person that let a potential spawner go (which will help our portable fish hatchery) has a fish fry coming and they don't even have to filet anything, how cool is that?!!
And remember "a good game fish is too valuable to be caught only once" let them go, so the numbers can grow.